Philanthropy
Each one of our 10 chapters at the University of South Florida has their own unique philanthropy. Read more to see what each one of them is about!
Last spring, Alpha Delta Pi was proud to host our 15th annual cheer toss and tumble at the Corrall in the Sun dome. Cheer toss and tumble is a cheer competition held for organizations all around campus, where the team performs a short cheer routine and help raise money for our philanthropy. We raised $26,000 for the Ronald McDonald House Charities this last spring. RMH is a charity that houses the families of patients staying at local children's hospitals. They provide a place to stay, laundry, and meals, all at no cost. This allows families to truly focus on the health of their child and stray away from financial burden that may be placed on the families. Alpha Delta Pi is very proud to host such an amazing event, for an even more amazing Philanthropy.
Serving the world around us is one of AOII's founding principles. Alpha Omicron Pi has enjoyed an important partnership with the Arthritis Foundation since 1967. Funds raised by AOII chapters are donated to support arthritis research, provide programing for juvenile arthritis patients, and ensure that medical attention is given to those suffering from the debilitating effects of arthritis. Gamma Theta hosts an event each year called Kickin' It for a Cure, a kickball tournament to raise funds and awareness for the Arthritis Foundation. Expanding outside the Arthritis Foundation, Gamma Theta supports Sisters for Soldiers which collects goods, sends handwritten letters, and provides needed comfort to our service men and women overseas.
Chi Omega's philanthropy is The Make-A-Wish Foundation. In 2002, an alliance was created that has resulted in Chi Omega raising more than 20 million dollars and volunteering over 1 million hours for Make-A-Wish. Chi Omega's goal is to be involved in volunteering and fundraising for Make-A-Wish and to assist in the granting of wishes to courageous kids. A wish granted not only provides hope, strength, and joy to a child and their family, but it can also provide a wish child with the ability and willingness to comply with difficult medical treatments, and the hope gained by that wish often improves a child's physical health. The Theta Theta Chapter of Chi Omega hosts the annual philanthropy event, Wings for Wishes, to raise funds for our local Make-A-Wish chapter. Wings for Wishes is a wing-eating competition that brings together the USF community and provides awareness of Make-A-Wish.
St. Jude Children's Research Hospital is internationally recognized leading the way the world understands, treats and defeats childhood cancer and other life-threatening diseases. Not only is St. Jude ranked one of the best pediatric cancer centers in the world but their policy is consistent with the vision of their founder Danny Thomas, no child is denied treatment based on race, religion or a family's ability to pay- families receiving treatment at St. Jude never receive a bill for their care. Tri Delta partnered with St. Jude in 1999 and continues to be one of their largest non-corporate donors. Nationally, Tri Delta has raised over $56 million dollars in the past 30 years for the children at St. Jude.
Delta Gamma prides ourselves on or motto do "Do Good" through our service to our Foundation, Service for Sight. We host our annual Anchor Splash event each fall where USF organizations join together in teams to participate in a synchronized swimming, cheer routine in the pool. This event raises awareness as well as funds toward Service for Sight, which was founded and is solely funded by Delta Gamma nationally. We are so excited to announce that last year, our Anchor Splash event raised over $41,000 toward combatting the negative effects of visual impairment. We are so proud to use this money to give grants to the four Delta Gamma schools who work with children who suffer from vision loss. In addition to these schools, our Foundation also supports the Golden Anchor Program, which assists senior citizens, as well as Southeastern Guide Dogs, which aids in the raising of seeing eye dogs. Last year, Delta Gamma nationally logged over 250,000 service hours and was awarded $392,000 of grants to continue our mission. We could not be prouder to dedicate our time and service, as well as host events such as Anchor Splash, toward such an important cause.
Moonball is a volleyball tournament among greek organizations that benefits Girls on the Run - Tampa Bay. Gamma Phi Beta believes in building strong girls alongside our philanthropic partner, Girls on the Run. Girls on the Run is an enrichment program offered to girls in grades K-8 nationwide, promoting the value of self love, positivity, health, and growth. The Eta Eta chapter raised over $11,000 at our third annual Moonball event in February of 2019.
Since 1981, Kappa Delta has been a proud supporter of Prevent Child Abuse America. The University of South Florida's chapter of Kappa Delta hosts their annual Shamrock philanthropy in support of the abused and battered children in our community and country. We recognize that every day we each have the opportunity to help create the kind of nation we want to live in. We also recognize that when all children don't have equal opportunity for healthy growth and development, we put our future as a society at risk. Our annual Shamrock event brings together many people in support of a great cause while having a good time. At last year's year's event, with the help of donations, we raised over $20,000!
Sigma Delta Tau has two philanthropies, Child Abuse America and Jewish Women International. Our philanthropies are broken down into two semester of each year. In the Fall our philanthropy is Prevent Child Abuse America. PCAA is an organization that aims to give children the best childhood by preventing abuse and neglect. Through their organization, they promote different services and programs that improve children's well being along with preventing neglect. In the Spring philanthropy is Jewish Women International. JWI is an organization that works to support and empower women through ensuring both their physical safety and economic security. JWI aims to make sure all women thrive economically, in healthy relationships and to their fullest potential.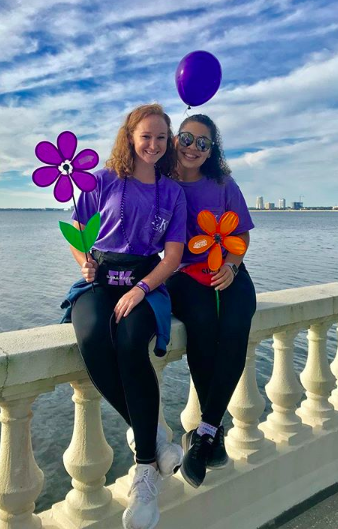 Sigma Kappa is very proud to support each one of our 5 philanthropies: The Sigma Kappa Foundation, Inherit the Earth, Gerontology, the Maine Seacoast Mission, and the Alzheimer's Association. Each year we host an Ultra Violet event that benefits the Sigma Kappa Foundation. The Sigma Kappa Foundation provides leadership and scholarship opportunities for collegiate members, as we as supports the other philanthropic initiatives of Sigma Kappa Sorority. In addition to hosting the Ultra Violet event, Sigma Kappa also fundraises and participates in the local Walk to End Alzheimer's. The Walk aims to raise awareness for Alzheimer's and promotes the need for a cure.
Zeta Tau Alpha's national philanthropy is Breast Cancer Education and Awareness. In 2019 the Kappa Sigma Chapter hosted our 9th annual Step Show, which is a stepping dance competition where chapters on campus participate in and proud to say we raised $30,000. The other event we host in the fall is King of Campus which is a softball tournament that chapters participate in as well. Our national philanthropy has three partnerships, the National Football League, American Cancer Society, and Bright Pink. In October there is Making Strides Breast Cancer Walk in Tampa where the whole Kappa Sigma chapter volunteers and get to check in survivors for the walk. This is one of the most impact events we do getting to see first-hand the impact we are having on our own community.